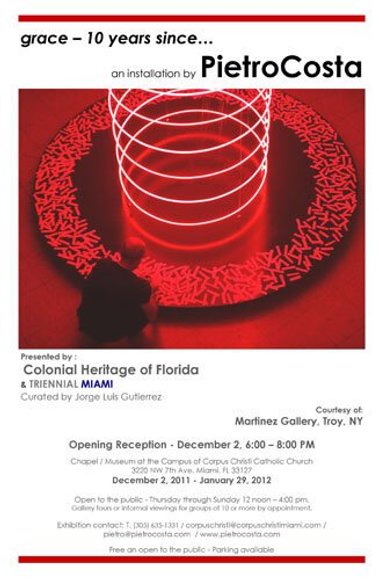 Pietro Costa's Website
Pietro Costa, a visual and sculptural artist, with whom Martinez Gallery has worked, has launched a new terrific website. It's worth visiting at pietrocosta.com.
In 2010, Martinez Gallery and Pietro Costa collaborated on a project for Art Basel Miami with an installation entitled Grace. To appreciate this important and influential installation, take a look at his page about the exhibition here.
If you have any reactions about the installation, let us know.
Art and Wine Article
By Laudelina Martinez
This article appeared in the inaugural edition, May/June 2022, of Capital Woman Online Magazine.
Two of my lifelong abiding interests are art and wine. I find them both intriguingly complementary.
Art Presentation at Skidmore
Gallery founder and director, Laudelina Martinez gave a presentation discussing curation at Skidmore College, Saratoga Springs, on April 18, 2022. Artist Armando Soto also spoke at this Skidmore event.

Hudson Valley Magazine's Focus on Martinez Gallery:
7 April Events to Celebrate Spring in the Hudson Valley

In a recent article of Hudson Valley Magazine, Martinez Gallery was mentioned, particularly its 2nd virtual exhibition, Am I a Nuyorican.
Owner of Martinez Gallery, Laudelina Martinez, Awarded one of Hudson Valley Magazine's Women in Business Awards!
Click the link to the right to read about the award and to get an inside scoop on Martinez Gallery.
A Window into Latino Art with the Albany County Public Library
The Martinez Gallery partnered with the Albany County Public Library, along with artists Alexis Mendoza and Roxanna Melendez to talk about their work through Zoom. The artists were asked questions about themselves and their art, and their pieces were shown live at the Gallery.